Science & Animal Care

Gain the skills you need for a career in science, forensics or animal care
If you are looking for a career in the science, forensic science / investigation or animal care sectors, South Essex College is the place for you.
Our science and animal care department is staffed by industry-trained professionals who are committed to providing you with top quality programmes.
Our courses span a number of subject areas that include applied science, forensic science and animal care amongst others. All of our courses are focused on providing you with the skills and grounding required to go on to higher education or pursue a career in the science field. We offer a range of levels, from introductory programmes right up to degree-level courses with opportunities for entry at all levels and clear progression routes.
Our animal care courses will help you to gain the knowledge and skills you need to work with animals.
You will study a range of practical animal care modules that will allow you to progress to further studies and employment. Previous students have gone on to work in a range of environments including vets, animal groomers and even Whipsnade Zoo.
Our science courses will give you the knowledge and skills necessary to follow a career in science and its related areas, including:
Nutrition medical research
Pharmacology medical physics
Environmental science
Career destinations
Animal grooming
Phlebotomist
Lab technician
Pharmaceutical sales representative
Science teacher
Chemist
Forensic scientist
Veterinary nurse
Toxicologist
Researcher
Environmental scientist
Health and safety manager
Marine biologist
Pharmacist
Oceanographer
Microbiologist
Coroner
Forensic pathologist
Dentist
Doctor
Surgeon
---
Success stories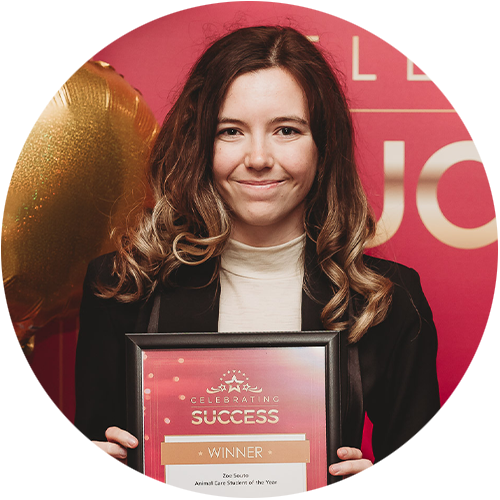 Celebrating Success 2022: Zoe Souto
Course studied
Zoe Souto, 17, from Rayleigh, studied Level 2 Animal Care at the college's Southend campus.
She was nominated for the award for her excellent attendance and attitude to college life and for completing work before deadlines to a very high standard.
Her tutor said: "Zoe is a very calming influence on the group. She keeps up-to-date with all work and goes above and beyond what is expected.
"Zoe may be hearing impaired but she never lets that act as a barrier to her learning and does everything to a great standard. I often have to set her work from level 3 to keep her ticking over."

Zoe said: "I feel so proud of myself and surprised as I didn't expect to be nominated, let alone win. I enjoyed all the support that was given during my course and have always been made to feel at home at the college."
Zoe's ambition for the future is to run her own pet services business or run her own cattery.

I gained a lot of knowledge on how criminal cases are analysed and the process that it goes through when taken to court.
High-achieving and dedicated Science Student of the Year, Emma Groom, is on course to follow her dream after securing a place to study Forensic Anthropology at Dundee University.

The 18-year-old has excelled in her Forensic Investigation & Criminology studies, achieving distinction star in her first year of study and is expected to achieve triple distinction star at the end of her programme.

Emma said she chose to study at South Essex College as it was one of the only providers she was aware of that offered the course. Her course has enabled her to pursue her dream of becoming a Forensic Anthropologist and she said it has 'heightened my enthusiasm about my career path'.

Her tutors were quick to praise Emma and nominate her as Science Student of the Year. Her citation read: "Emma has been an absolute pleasure to work with. She is a polite, kind and considerate individual who is highly regarded by both her peers and her tutors.
"Emma is an ambitious and conscientious young person and we wish her all the success that she deserves."

Emma said she was thrilled to have won the award and said her hard work over the past two years had paid off.

She said: "I gained a lot of knowledge on how criminal cases are analysed and the process that it goes through when taken to court.
"I wish to become a successful Forensic Anthropologist. It will bring joy to me when I can finally give those affected by unforeseen events their identity back and finally bring them justice."