Bricklaying students secure work trial after impressing competition judges
Eleven bricklaying students at South Essex College have been offered a work trial with the UK's largest integrated brickwork, stonework and scaffolding sub-contractor, Lee Marley, after excelling in a competition.
The Level 1 and 2 students, who study at the college's Stephenson Road Campus, were set the challenge of building a wall to a set specification in just six hours, which was then judged by representatives from the company.
Darren Parsons, from the college's workforce team, arranged for Lee Marley to visit the college to set the task in order to put the skills the students had learnt in the workshop to the test and to showcase their abilities to a potential employer.
All of the students involved worked incredibly hard and judges had a difficult time choosing the students to offer work trials to. Not only were students judged on the quality of their work, but also other attributes that employers are keen to look for such as work ethic, timekeeping and cleanliness.
The scoring criteria had to be extremely strict to select those who the company could offer a work placement to. While not all students were able to secure work trials at this time, the judges were impressed with the students' work and are keen to come back at a later date when further opportunities arise.
At the end of the competition, all students were presented with certificates with the top 3 – Mason Greene, Alfie Havis, and Adam Talbot – receiving prizes.
Alongside the top three, Callum Wade, Cameron Rickenberg, Thomas Palmer, Danny James, Henry Twinn, Alfie Cooke, Harrison Sargent, and Kavi Pathak also secured work trials.
Matthew Proctor, Curriculum Manager, said he was extremely proud of the students.
He said: "All of the students really gave it their all in the competition, showcasing a very high level of work. They also took a lot away from the competition, they found out where there were areas of improvement and how they can focus on areas they didn't quite get right on the day.
"It's great to work with employers such as Lee Marley as it helps showcase progression opportunities to students, whether that be employment or apprenticeships. It also help us better understand what employers are looking for so we can instil these skills in the workshop to better prepare our students for the world of work or further study."
For more information about courses available at the college, visit www.southessex.ac.uk

Success stories
Celebrating Success 2022: Maison Lundrigan
Course studied
It's a great college, especially for people with disabilities. The support I received from my tutor Charlie was brilliant. I really enjoyed the practical, hands-on aspect of the course.
Maison Lundrigan was named Motor Vehicle Student of the Year for his dedication and the consistent hard work he put into his studies.

The 18-year-old was praised for the high quality of his work and the fact that he was the first to pass his online exams.

He has excelled during his time at the college, so much so, he is now embarking on a three-year apprenticeship programme at the college.

Maison has achieved all this despite living with additional needs.

He said it felt 'brilliant' to win the award and 'it's made me realise that I can achieve even with my disability.'

He added: "I chose the college because it offered the right course for me.

"It's a great college, especially for people with disabilities. The support I received from my tutor Charlie was brilliant. I really enjoyed the practical, hands-on aspect of the course."

Maison is now looking forward to his apprenticeship so he can pursue his dream of becoming a car mechanic.

His tutor said: "He is a pleasant and well-mannered young man that any college or employer would be pleased to have. Maison has a very bright future ahead of him."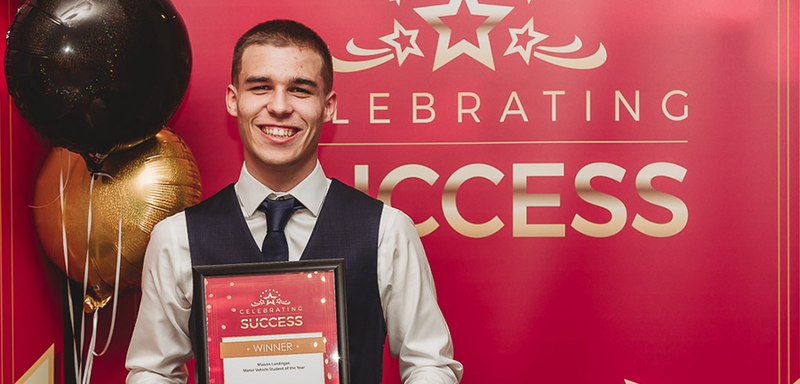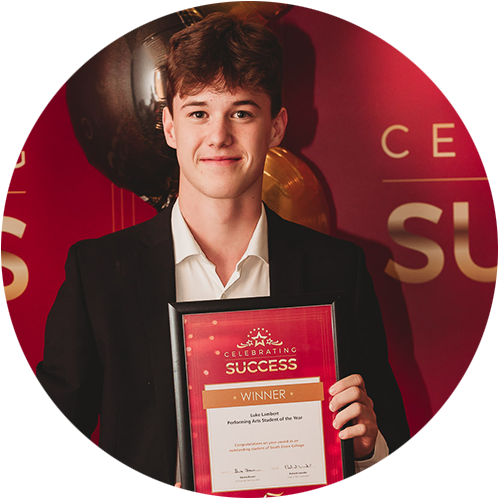 I have enjoyed receiving honest feedback and having the opportunity to grow as a performer. Tutors really encourage their students.
Performing Arts Student of the Year, Luke Lambert, has won his award because in every respect, his development and improvement has been outstanding.

Luke said that he feels extremely proud and grateful for the recognition.

He said: "I chose to study at the college because I went to the open day with my parents. We were all really excited by the course and impressed by Richard and his ambition for his students."

He added: "The course has been great for learning professional etiquette, as well as the actual training. I have enjoyed receiving honest feedback and having the opportunity to grow as a performer. Richard and Neil really encourage their students."

Luke's tutor said: "Luke is an outstanding student. The development of his skills set during his time at this college is phenomenal which has been rewarded by casting him in the lead of the cohorts FMP production of 'Spring Awakening'. As a result of his continuous diligence and want to improve, he has achieved offers from four top London Drama Schools to study Musical Theatre, Bird College, Arts Educational, Italia Conti and Guildford Conservatoire (GSA). This is far above what was expected at the beginning of his training.

"He has demonstrated that he is highly motivated to succeed in this industry and aspires to always do his best. He is polite and well-mannered at all times to both his peers and his tutors. He is extremely well respected by his cohort. He is always supportive of them and goes out of his way to help them.

"He has become a very influential member of the group in so many positive ways. Behaviour, focus and attention to detail is impeccable and cannot be faulted. He has met every deadline for both practical and academic tasks. A faultless time at this college."

Luke will be studying for a BA (Hons) in Musical Theatre at ArtsEd in London from September and his ultimate ambition is to be performing leading roles in the West End.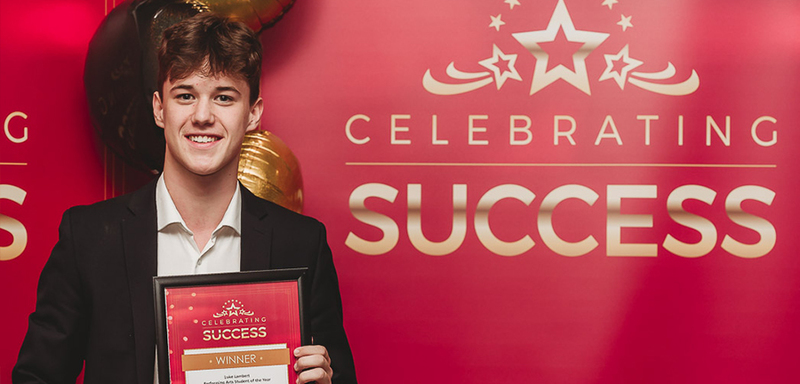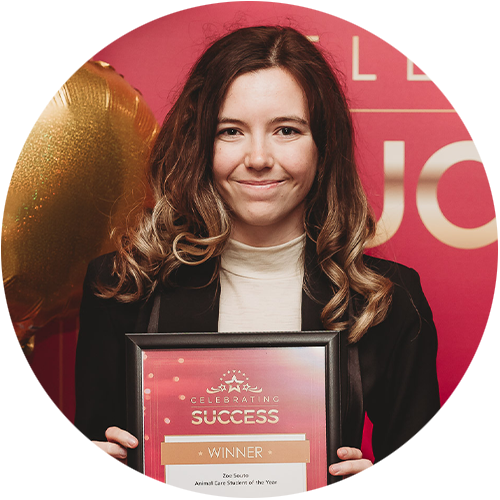 Celebrating Success 2022: Zoe Souto
Course studied
Zoe Souto, 17, from Rayleigh, studied Level 2 Animal Care at the college's Southend campus.
She was nominated for the award for her excellent attendance and attitude to college life and for completing work before deadlines to a very high standard.
Her tutor said: "Zoe is a very calming influence on the group. She keeps up-to-date with all work and goes above and beyond what is expected.
"Zoe may be hearing impaired but she never lets that act as a barrier to her learning and does everything to a great standard. I often have to set her work from level 3 to keep her ticking over."

Zoe said: "I feel so proud of myself and surprised as I didn't expect to be nominated, let alone win. I enjoyed all the support that was given during my course and have always been made to feel at home at the college."
Zoe's ambition for the future is to run her own pet services business or run her own cattery.