Subject Focus Week – Hospitality and Catering: Students' top lockdown recipes
As part of Subject Focus Week, we asked catering students to share their top recipes to try this week. These are the tasty dishes they were making all through lockdown, to raise spirits in their family homes.

Have a go at creating the dishes yourself and post a picture to the college social media accounts so we can share. Don't forget to use the hashtag #lockdownrecipes
Lewis Bailey – Ham & cheese pinwheels
Ingredients:
• 8 slices of ham
• 140g grated mature cheddar cheese
• 1 egg
• 1 roll of puff pastry

Method:
1. Get all ingredients out and ready, weigh the cheese.
2. Roll out puff pastry.
3. Place the slices of ham all over the pastry to cover it.
4. Sprinkle over the cheese to cover the pastry.
5. Roll up the pastry from one side all the way to the other side.
6. Cut equal slices, about 2cm a slice.
7. Place the pinwheels on a baking tray with greaseproof paper on it.
8. Crack egg in bowl and whisk.
9. Brush the pinwheels with egg.
10. Place in oven for 15-20 minutes or until golden brown.

Rhomanie Adelle Pamenter - Penne Ragu al Forne
Ingredients ( serves 4 people):
• 480g beef mince
• 2 carrots
• 400g penne pasta
• 2 cartons chopped tomatoes
• 2 tablespoons of tomato puree
• 2 cloves garlic
• Half a red onion
• 100ml red wine
• 2 balls of mozzarella
• 40g grana pandano
• Small bunch of chives
Method:
1. Preheat oven to 200 C. Bring a large saucepan of lightly salted water to the boil. Meanwhile heat a large frying pan on a medium heat. When hot, add beef mince and cook until brown – about 5 minutes. Drain any excess fat from pan and add crushed garlic and red onion finely chopped.
2. Meanwhile, trim the carrot (remove top and bottom) and grate. Add penne to boiling water and cook for 12 minutes. When cooked, drain in a colander, place back into pan with a small drizzle of oil to stop the pasta sticking together. Once mince is browned, add carrots, stir then add tomato puree. Cook, whilst stirring for another minute.
3. Pour the chopped tomatoes into the mince, along with the red wine, bring to the boil and stir to incorporate the wine, then reduce the heat and simmer for 10 to 12 minutes. Season with salt and pepper.
4. Whilst the sauce is reducing, finely chop chives. Also get some washing up done!
5. Once sauce has thickened, stir sauce and pasta together along with half the chives and transfer to an ovenproof dish. Drain mozzarella and tear into pieces. Scatter over the top of the pasta then sprinkle over the gran pandano. Bake until cheese is melted and bubbly - about 10 minutes.
6. Serve sprinkled with remaining chives.
James Rose – Banana bread
Ingredients:
• 100 g softened butter
• 175 g caster sugar
• 2 large eggs
• 2 ripe bananas, mashed
• 225 g self–raising flour
• 1 level teaspoon baking powder
• 2 tablespoons milk
• A handful of walnuts

Method:
1. Pre-heat the oven to 180 C, lightly grease a 900g loaf tin then line the base and sides with baking parchment.
2. Measure all the ingredients into a mixing bowl and beat for about two minutes, until well blended. Spoon the mixture into the prepared tin and level the surface.
3. Bake in the pre-heated oven for about 1 hour, until well risen and golden brown. A fine skewer inserted in the centre should come out clean. Leave to cool in the tin for a few minutes then turn out, peel off the parchment and finish cooling on a wire rack. Slice thickly to serve.
For more information about Hospitality and Catering courses at the college, visit https://www.southessex.ac.uk/hospitality-catering
Success stories
Celebrating Success 2022: Maison Lundrigan
Course studied
It's a great college, especially for people with disabilities. The support I received from my tutor Charlie was brilliant. I really enjoyed the practical, hands-on aspect of the course.
Maison Lundrigan was named Motor Vehicle Student of the Year for his dedication and the consistent hard work he put into his studies.

The 18-year-old was praised for the high quality of his work and the fact that he was the first to pass his online exams.

He has excelled during his time at the college, so much so, he is now embarking on a three-year apprenticeship programme at the college.

Maison has achieved all this despite living with additional needs.

He said it felt 'brilliant' to win the award and 'it's made me realise that I can achieve even with my disability.'

He added: "I chose the college because it offered the right course for me.

"It's a great college, especially for people with disabilities. The support I received from my tutor Charlie was brilliant. I really enjoyed the practical, hands-on aspect of the course."

Maison is now looking forward to his apprenticeship so he can pursue his dream of becoming a car mechanic.

His tutor said: "He is a pleasant and well-mannered young man that any college or employer would be pleased to have. Maison has a very bright future ahead of him."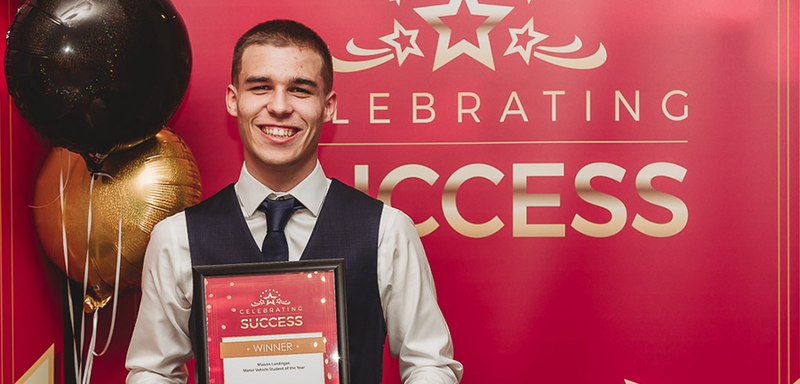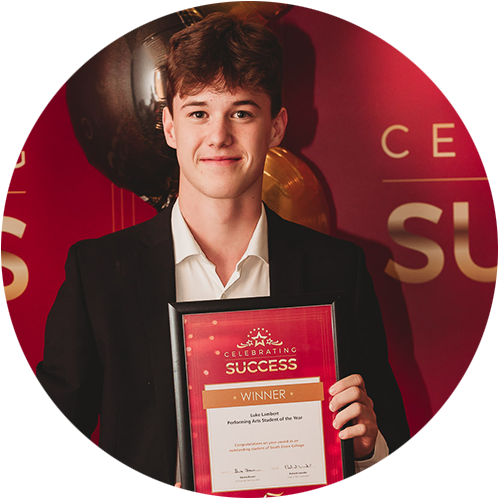 I have enjoyed receiving honest feedback and having the opportunity to grow as a performer. Tutors really encourage their students.
Performing Arts Student of the Year, Luke Lambert, has won his award because in every respect, his development and improvement has been outstanding.

Luke said that he feels extremely proud and grateful for the recognition.

He said: "I chose to study at the college because I went to the open day with my parents. We were all really excited by the course and impressed by Richard and his ambition for his students."

He added: "The course has been great for learning professional etiquette, as well as the actual training. I have enjoyed receiving honest feedback and having the opportunity to grow as a performer. Richard and Neil really encourage their students."

Luke's tutor said: "Luke is an outstanding student. The development of his skills set during his time at this college is phenomenal which has been rewarded by casting him in the lead of the cohorts FMP production of 'Spring Awakening'. As a result of his continuous diligence and want to improve, he has achieved offers from four top London Drama Schools to study Musical Theatre, Bird College, Arts Educational, Italia Conti and Guildford Conservatoire (GSA). This is far above what was expected at the beginning of his training.

"He has demonstrated that he is highly motivated to succeed in this industry and aspires to always do his best. He is polite and well-mannered at all times to both his peers and his tutors. He is extremely well respected by his cohort. He is always supportive of them and goes out of his way to help them.

"He has become a very influential member of the group in so many positive ways. Behaviour, focus and attention to detail is impeccable and cannot be faulted. He has met every deadline for both practical and academic tasks. A faultless time at this college."

Luke will be studying for a BA (Hons) in Musical Theatre at ArtsEd in London from September and his ultimate ambition is to be performing leading roles in the West End.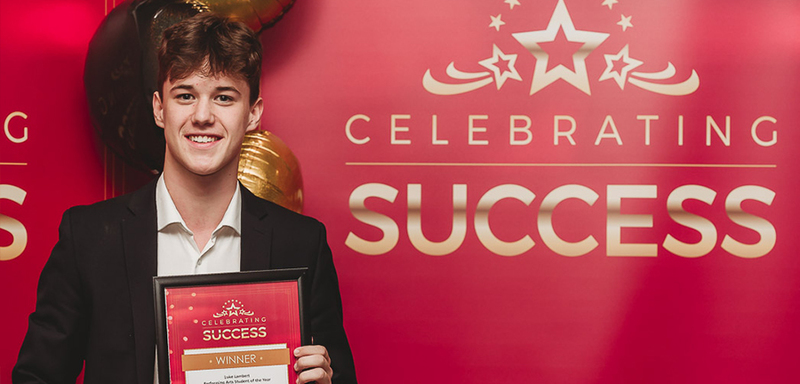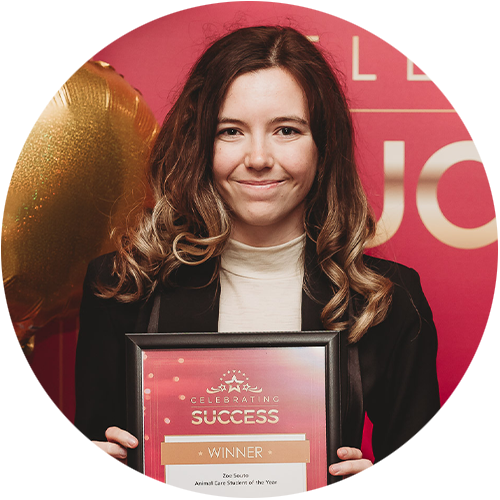 Celebrating Success 2022: Zoe Souto
Course studied
Zoe Souto, 17, from Rayleigh, studied Level 2 Animal Care at the college's Southend campus.
She was nominated for the award for her excellent attendance and attitude to college life and for completing work before deadlines to a very high standard.
Her tutor said: "Zoe is a very calming influence on the group. She keeps up-to-date with all work and goes above and beyond what is expected.
"Zoe may be hearing impaired but she never lets that act as a barrier to her learning and does everything to a great standard. I often have to set her work from level 3 to keep her ticking over."

Zoe said: "I feel so proud of myself and surprised as I didn't expect to be nominated, let alone win. I enjoyed all the support that was given during my course and have always been made to feel at home at the college."
Zoe's ambition for the future is to run her own pet services business or run her own cattery.