Applications and Enrolment 2023
LatestSome courses are still available for enrolment, read more below.
Visit our Courses Still Available page and apply now for an immediate start.
Courses for School Leavers (16-18) and Adults (19+) are available at our Basildon, Thurrock and Southend City Colleges.
Take this amazing opportunity to enrol on a course at South Essex College Group. If you are looking to change your career or upskill we have places available to get you on the road to a bright future.
Apply online via email:
To apply for programmes on our Courses Still Available page first check you meet the entry requirements and then email or call our Admissions team with the course title you wish to apply for and your contact details.
email: admissions@southessex.ac.uk
Call: 0345 52 12345
Apply in person at one of our campuses:
You can also visit one of our campuses and speak to a member of staff who will help guide you through the process.
Find us here
---
Further Education Enrolment (aged 16-18 years)
Important: Enrolment on to a programme is subject to an offer being made and you achieving the programme's specific entry requirements. If this is the case you will have had an appointment time and date sent to you.
You will have received your appointment via the email address you used to register with when applying for the course. A copy would also have been sent to your next of kin. A printed letter and text message reminder have also been sent.
Entry requirements are stated on the course listings on the website. Additionally, if you have declared you have an Education, Health and Care Plan or complex additional support needs, the enrolment is conditional on South Essex College and your Local Authority agreeing appropriate support.
You will be sent an invitation with your allocated enrolment date and time. This will be sent to the email used on your application, by the end of July 2023.
Remember
Please ensure the email address and contact number you have provided on your application are correct and keep an eye on your junk folder just in case! You can check your application by logging in to your Applicant Portal
Applications for courses starting in September have now closed.
We have seen a significant increase in applications this year and many of our courses will become fully enrolled very quickly. We allocate you a place on a course based on your exam grades and your date of application. On some of our programmes numbers are limited and we are not always able to increase group sizes in classrooms or workshops.
If you cannot make your appointment, please let us know as soon as you can so that we can offer you an alternative. If you do not attend you do run the risk of not being able to enrol onto your first choice study programme.
email: admissions@southessex.ac.uk
We will be creating reserve lists should you not be able to enrol on your first choice programme and there will be staff at every College to offer information, advice and guidance throughout the Summer and enrolment.
What to bring
You will be required to confirm your eligibility to study in the UK by providing a copy of any of the following:
UK passport.
UK birth certificate.
Full UK driving license.
For non-UK citizens, you will need to provide sufficient document/s confirming your right to live and study in the UK e.g. confirmation of settled status.
We will also request you bring the items below with you:
Copies of all your qualifications, or a statement of results issued by your school.
Uniform and consumable fee (if applicable for the course you are applying to).
If you are aged 19+, you will speak with a member of our Funding team to complete a Fee Assessment. The Fee Assessment will determine whether your course fees will be funded (paid) by the ESFA or whether you will need to fund your course yourself.
Ask a question
Worried you have made the wrong choice of course? Not sure what course is best for you to meet your career goals? We're here to help!
Contact our friendly and knowledgeable advisers by emailing admissions@southessex.ac.uk
We look forward to welcoming you to South Essex College.
Enrolment FAQs
There is no need to worry, we offer a range of courses and levels which will enable you to achieve your education and career goals. Academic staff at Stage 1 of your enrolment will work with you to find a suitable course depending on your grades and other factors.
To avoid this happening, please ensure the email address and contact number you have provided is correct. Keep an eye on your junk folder just in case! You can check your application by logging in to your Applicant Portal
Useful documents
Money Matters contains information on the funding options you may be eligible to apply for.
Your timetable will be given to you by the academic teams during induction week, between Monday 4 September and Friday 8 September.
We'll have friendly staff around to help you get to where you need to be and lots of directional signage will be in operation throughout the college.
There will be a range of options for you which will depend on the course you have completed. This could be continuing your study with us at a more advanced level for example, progressing to a Level 2 qualification after completing a Level 1 programme, or it could mean progression to one of our Higher Education courses such as a HNC or a degree.
We pride ourselves on providing high quality support to our learners with a wide range of additional learning support needs, helping individuals to participate fully in college life. If you have disclosed special educational needs or a disability on your application, our friendly and supportive Additional Learning Support team will be in contact with you to discuss your needs.
Contacting the Additional Learning Support team
For more information about Additional Learning Support and how to contact the team, please visit our Additional Learning Support webpage
If you are a young carer, known to social care, living independently, require counselling or need general pastoral support, the Safeguarding team and wider Student Services team have staff members who can work closely with you.
Contacting the Wellbeing & Safeguarding team
For more information about Safeguarding and how to contact the team, please visit our Safeguarding webpage
Yes, you can change your course choice before, during or after enrolment, as long as there are still spaces available on the alternative course. If you start on the course and decide it's not for you, your tutor and our Careers team will be able to provide you with support and guidance. We also host a Swap Don't Drop Fair that assists students in exploring alternative courses.
There may be an occasion when we may have to close a course or move it to a different location. This can be due to a number of reasons such as low interest or changes to funding. In the rare case this occurs, the following steps will be taken:
We will let you know about the changes as soon as possible
Where the course runs at more than one campus and there are still places available, we will offer a place at an alternative campus
Provide you with Information, Advice and Guidance to discuss alternative options
For our performance courses you will be required to complete an audition. If you have not already completed this as part of your application, this will take place before the start of term and the date/time/location will be provided to you at your enrolment.
For our art and design courses you will be required to provide a portfolio to evidence your current level. Please bring some of your recent work with you to your enrolment. If you are unsure what to bring, the academic staff at Stage 1 of your enrolment will be able to provide further guidance.
You will be contacted with full details of the DBS process if this is required for the course you have applied to.
We support learners in finding suitable work placements and have a dedicated Work Experience team to guide them through the process.
We can't guarantee you will. You may not be studying at the same level and even if you are, a lot of our courses have more than one group. Remember, you're not the only one starting college, you'll be making friends in no time.
The college day is very different to school. Days are slightly longer to better represent a day in the workplace, which helps you prepare for the world of work.
You may not attend college every day of the week, but will still study in line with the required guided learning hours. The days you are not in college are an ideal opportunity for independent study as well as securing work experience to support your studies or a part time job. Most courses have work experience requirements built in to the qualifications.
Courses are delivered by industry experts in their field combining theory with practical study. A lot of tutors have previously worked in their industry, and some still do, so they are able to bring first-hand experience to the course. Tutors also work closely with local businesses which is great for work experience.
Details will be provided to you at Stage 1 of your enrolment if a uniform is required for your course. We prepare you for the workplace and uniforms may be a part of your chosen career.
You may be required to purchase specialised equipment or uniforms depending on the course you are studying. For more information speak to your tutor during enrolment or contact the admissions team via email admissions@southessex.ac.uk
Every week during term time our Enrichment team run a programme of pursuits for our students to access which includes sports enrichment, careers events and activities that engage with local community organisations and groups.
Study with us
We will treat you as an adult, and guide you through your programme so that you get excellent results at the end.
We will also help you get the most from your time at college and enjoy yourself while you are learning lots of new skills.
Campuses in Southend, Basildon and Thurrock
Learn from professionals
Gain practical experience
Find your ideal career
Freedom to be yourself
A stepping stone to university
Vibrant, friendly atmosphere
Success stories
Celebrating Success 2022: Maison Lundrigan
Course studied
It's a great college, especially for people with disabilities. The support I received from my tutor Charlie was brilliant. I really enjoyed the practical, hands-on aspect of the course.
Maison Lundrigan was named Motor Vehicle Student of the Year for his dedication and the consistent hard work he put into his studies.

The 18-year-old was praised for the high quality of his work and the fact that he was the first to pass his online exams.

He has excelled during his time at the college, so much so, he is now embarking on a three-year apprenticeship programme at the college.

Maison has achieved all this despite living with additional needs.

He said it felt 'brilliant' to win the award and 'it's made me realise that I can achieve even with my disability.'

He added: "I chose the college because it offered the right course for me.

"It's a great college, especially for people with disabilities. The support I received from my tutor Charlie was brilliant. I really enjoyed the practical, hands-on aspect of the course."

Maison is now looking forward to his apprenticeship so he can pursue his dream of becoming a car mechanic.

His tutor said: "He is a pleasant and well-mannered young man that any college or employer would be pleased to have. Maison has a very bright future ahead of him."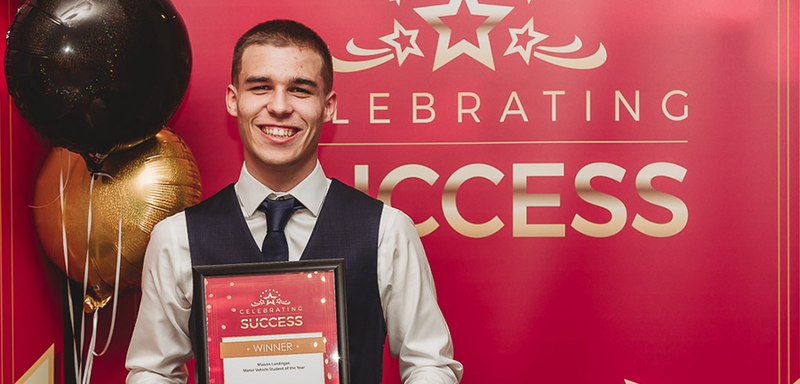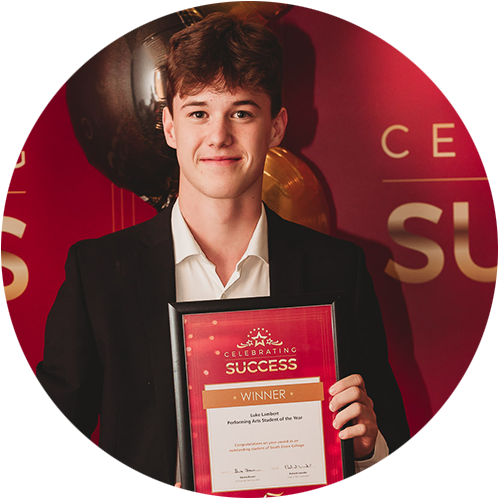 I have enjoyed receiving honest feedback and having the opportunity to grow as a performer. Tutors really encourage their students.
Performing Arts Student of the Year, Luke Lambert, has won his award because in every respect, his development and improvement has been outstanding.

Luke said that he feels extremely proud and grateful for the recognition.

He said: "I chose to study at the college because I went to the open day with my parents. We were all really excited by the course and impressed by Richard and his ambition for his students."

He added: "The course has been great for learning professional etiquette, as well as the actual training. I have enjoyed receiving honest feedback and having the opportunity to grow as a performer. Richard and Neil really encourage their students."

Luke's tutor said: "Luke is an outstanding student. The development of his skills set during his time at this college is phenomenal which has been rewarded by casting him in the lead of the cohorts FMP production of 'Spring Awakening'. As a result of his continuous diligence and want to improve, he has achieved offers from four top London Drama Schools to study Musical Theatre, Bird College, Arts Educational, Italia Conti and Guildford Conservatoire (GSA). This is far above what was expected at the beginning of his training.

"He has demonstrated that he is highly motivated to succeed in this industry and aspires to always do his best. He is polite and well-mannered at all times to both his peers and his tutors. He is extremely well respected by his cohort. He is always supportive of them and goes out of his way to help them.

"He has become a very influential member of the group in so many positive ways. Behaviour, focus and attention to detail is impeccable and cannot be faulted. He has met every deadline for both practical and academic tasks. A faultless time at this college."

Luke will be studying for a BA (Hons) in Musical Theatre at ArtsEd in London from September and his ultimate ambition is to be performing leading roles in the West End.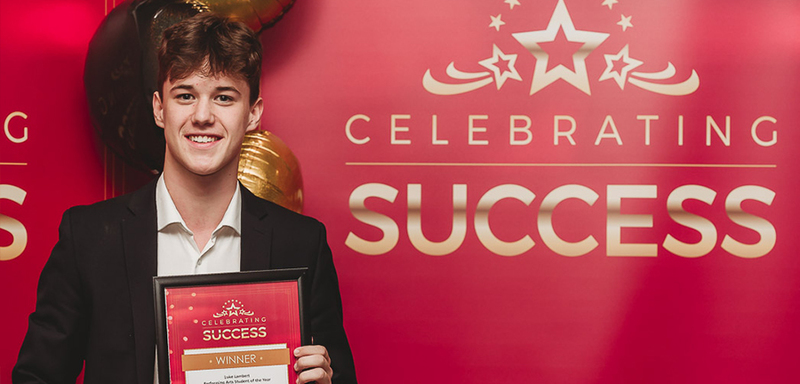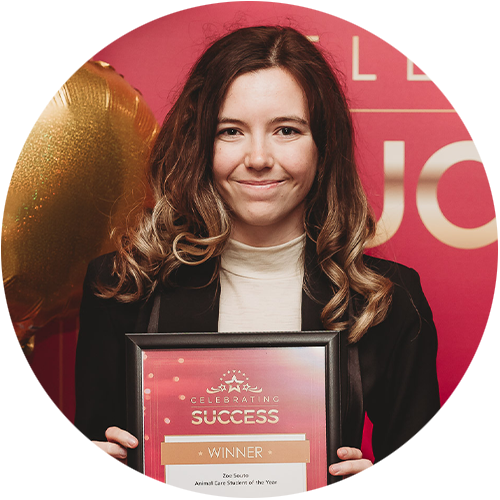 Celebrating Success 2022: Zoe Souto
Course studied
Zoe Souto, 17, from Rayleigh, studied Level 2 Animal Care at the college's Southend campus.
She was nominated for the award for her excellent attendance and attitude to college life and for completing work before deadlines to a very high standard.
Her tutor said: "Zoe is a very calming influence on the group. She keeps up-to-date with all work and goes above and beyond what is expected.
"Zoe may be hearing impaired but she never lets that act as a barrier to her learning and does everything to a great standard. I often have to set her work from level 3 to keep her ticking over."

Zoe said: "I feel so proud of myself and surprised as I didn't expect to be nominated, let alone win. I enjoyed all the support that was given during my course and have always been made to feel at home at the college."
Zoe's ambition for the future is to run her own pet services business or run her own cattery.