Level 3
Performing and Production Arts (Musical Theatre) Level 3 Extended Diploma
| Duration | Age Group | Study | Start | Available Locations |
| --- | --- | --- | --- | --- |
| 2 YEARS | SCHOOL LEAVERS | FULL TIME | 04/09/2024 | Southend Campus |
| Duration | Age Group | Study | Start | Available Locations |
| --- | --- | --- | --- | --- |
| 2 YEARS | SCHOOL LEAVERS | FULL TIME | 04/09/2024 | Southend Campus |
Overview
This course is ideal if you have an interest in musical theatre, the performing arts industry and would like to pursue an education and eventually a career in this industry. The delivery is vocationally led through a series of performance projects.
Entry Requirements
Level 2 qualification or GCSEs x 4 at grade 4/C -  one to be grade 4/C in ENGLISH OR MATHS dependent on vocational subject to be studied
You will be asked to evidence your ability in the subject in the form of an audition
Successful attendance at interview event
Course Structure
Musical Theatre styles and genres
Singing techniques (ensemble and solo)
Musical Theatre acting techniques
Ballet, Tap and Jazz techniques
Developing your speaking voice (articulation)
Analysis of text and the written word
Research and creative contexts
Body Conditioning and Fitness
Performance Skills
Music theory
Progression onto Higher Education
English and maths
Assessment & Feedback
Project/portfolio based learning
Practical tasks
Performance
Self-evaluation of own practice
Reflective processes
Course Cost
School Leavers, full_time:

FREE to UK under 19s not in employment.
Important
Aged 18 as of 31st August 2022 and applying for Level 3 Extended Diploma?
Your application and enrolment will be for the one year Level 3 Diploma. If you wish to complete the full Extended Diploma you will need to apply for an (Advanced Learner Loan) to cover the tuition fees after successfully completing the Diploma.
For more information please contact our admissions team
email: admissions@southessex.ac.uk
What Next...
Progress onto a vocational Drama School training or University degree qualification.
Success Stories...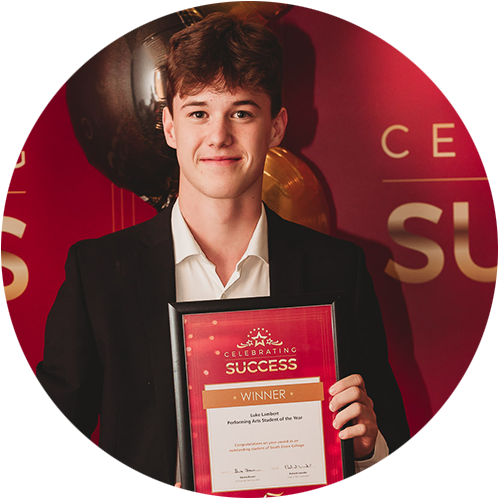 I have enjoyed receiving honest feedback and having the opportunity to grow as a performer. Tutors really encourage their students.
Performing Arts Student of the Year, Luke Lambert, has won his award because in every respect, his development and improvement has been outstanding.

Luke said that he feels extremely proud and grateful for the recognition.

He said: "I chose to study at the college because I went to the open day with my parents. We were all really excited by the course and impressed by Richard and his ambition for his students."

He added: "The course has been great for learning professional etiquette, as well as the actual training. I have enjoyed receiving honest feedback and having the opportunity to grow as a performer. Richard and Neil really encourage their students."

Luke's tutor said: "Luke is an outstanding student. The development of his skills set during his time at this college is phenomenal which has been rewarded by casting him in the lead of the cohorts FMP production of 'Spring Awakening'. As a result of his continuous diligence and want to improve, he has achieved offers from four top London Drama Schools to study Musical Theatre, Bird College, Arts Educational, Italia Conti and Guildford Conservatoire (GSA). This is far above what was expected at the beginning of his training.

"He has demonstrated that he is highly motivated to succeed in this industry and aspires to always do his best. He is polite and well-mannered at all times to both his peers and his tutors. He is extremely well respected by his cohort. He is always supportive of them and goes out of his way to help them.

"He has become a very influential member of the group in so many positive ways. Behaviour, focus and attention to detail is impeccable and cannot be faulted. He has met every deadline for both practical and academic tasks. A faultless time at this college."

Luke will be studying for a BA (Hons) in Musical Theatre at ArtsEd in London from September and his ultimate ambition is to be performing leading roles in the West End.