Colleges Week 2021 - Basildon Town Centre campus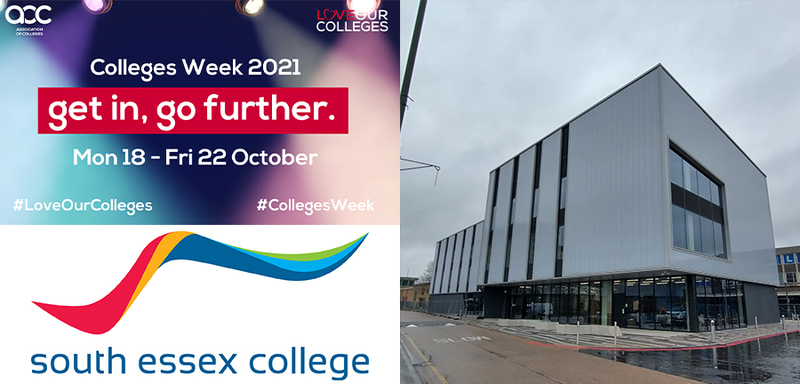 South Essex College is one of the largest further education providers in the country, delivering an array of courses from our sites in the boroughs of Southend, Basildon and Thurrock.

As part of Colleges Week we will be showcasing one of our campuses each day and what it has to offer.

Today's focus is on Basildon Town Centre campus.
Basildon Town Centre campus is our Centre for Digital Technologies which opened to students in January of this year.

The campus, located on the site of the former Basildon Market, houses state-of-the-art facilities and equipment for students on courses with a tech focus including IT networking, app development, games design and games development, and animation.

The campus also offer Digital Production T-Level. This new qualification combines classroom study with on the job training as part of a substantial industry placement. Industry placements with an employer will last at least 315 hours.

Areas of the building have been modelled on tech sector offices, giving that innovative 'Google' feel to a lot of the open plan spaces. Students experience working in this kind of modern environment, preparing them to enter the industry.

Not only does the site offer courses for school leavers, but adults too. These courses are perfect for those who wish to upskill in their current careers, but also for those who want to retrain for a different sector. They are also perfect for those who want to get back into education and may not have got the grades they needed when they were at school or college.

The site also offers degree courses in Games Design and Digital Animation as well as an HNC in Computing.
Want to find out more?
Visit us at our next Basildon Town Centre campus open event TODAY (Thursday 21 October) 5-8pm or Wednesday 9 February 2022, 5-8pm.

Find out more at www.southessex.ac.uk/oe

You can also find out about all of the courses available by using our online course finder at www.southessex.ac.uk/search