Level 4
General Engineering (HNC)
| Duration | Age Group | Study | Start | Cost | Available Locations |
| --- | --- | --- | --- | --- | --- |
| 2 YEARS | ADULT | PART TIME DAY | 04/09/2023 | £3500 per year * | Thurrock Campus |
| Duration | Age Group | Study | Start | Cost | Available Locations |
| --- | --- | --- | --- | --- | --- |
| 2 YEARS | ADULT | PART TIME DAY | 04/09/2023 | £3500 per year * | Thurrock Campus |
Overview
This is the perfect programme if you aspire to specialise in engineering. You will learn in an industry-standard environment with industry trained tutors.
This award is validated by Pearson Edexcel.
Our Higher National Certificate course offers a good balance of academic theory and practical industry knowledge which is firmly aligned to your job requirements from day one. Through high-quality lectures, case study research and employer-based projects you will gain a unique blend of general skills along with specific industry knowledge in the field of engineering.
The ability to study part-time alongside your job, allows you to gain an industry-recognised qualification that is accepted around the world. The HNC becomes your passport to advancing your career in engineering. Studying and working at the same time does require good organisational and time management skills, but it allows you to apply your learning immediately to your job as well as to bring in reallife examples from your work into the learning environment to discuss with peers.
Entry Requirements
You will need a minimum of 64 UCAS points from one or more of the following:
BTEC Level 3 Engineering
AVCE/GNVQ in a related vocational area (Level 3)
A-levels in maths and science subjects
A related Access to Higher Education Certificate or other related Level 3 qualifications
Related work experience supported by GCSEs at grades 9-4 (A** to C) or equivalent
You will also need GCSE English and GCSE Maths at grade C (old specification) or grade 4 (new specification) or above OR a Level 2 equivalent such as functional skills.
To find out how many points your qualifications are awarded, view the UCAS Tariff tables.
Course Structure
This programme is offered part-time so you can work in the engineering industry alongside your studies. You will be in college one day per week, and we can liaise with your employer to help shape the course to meet your needs. In the second year there is a work-based project, so you can study a topic that supports your career progression and your employer. Currently we have students from a range of companies including Procter and Gamble.
Units
Maths for Engineers
This unit will provide the analytical knowledge and techniques needed to carry out a range of engineering tasks and will provide a base for further study of engineering mathematics.
Engineering Science
Engineers, no matter from what discipline, need to acquire a fundamental understanding of the mechanical and electrical principles that underpin the design and operation of a large range of engineering equipment and systems. This unit will develop your understanding of the key mechanical and electrical concepts that relate to all aspects of engineering.
Mechanical Principles
This unit aims to develop your understanding of an extended range of mechanical principles that underpin the design and operation of mechanical engineering systems. You will analyse the use of mechanical power transmission systems, both individually and in the combinations that are used in practical situations.
Electrical and Electronic Principles
Circuits and their characteristics are fundamental to any study of electrical and electronic engineering and therefore a good understanding is important to any engineer. You will be able to take complex electrical circuit problems, break them down into acceptable elements and apply techniques to solve or analyse the characteristics. Additionally, you will perform fine tuning of the circuits to obtain required output dynamics.
Computer-aided Design for maintenance engineers
This unit will support the development of your CAD abilities and build upon those skills to introduce the more advanced techniques that are used to create and modify schematic drawings quickly and efficiently.
PLC
This unit will provide you with wide experience in computer-based programming. This is used for automation of typical industrial electro-mechanical processes and provide maximum opportunities to develop appropriate engineering skills. This will benefit both you and your employer. The knowledge of PLC will also be essential if you wish to develop your specific engineering skills.
Contact hours
This programme will run on Wednesdays (year one) and Thursdays (year two).
Industry links
IPECO
Laing O'Rourke
P & G
Unilever
Britvic
Assessment & Feedback
The course is assessed through coursework. You will complete assignments that focus on the practical application of the assessment criteria, providing a realistic scenario for you to adopt, making maximum use of work-related practical experience and reflecting typical practice in industry. The HNC is graded pass, merit or distinction.
Practical assignments enable the manfacture of products. You will also engage in simulated virtual environments to assess how you engage with practical requirements.
Course Cost
Adult, part_time_day: £3500 per year

Fees are per academic year for UK students.
Course fee based on 2021-22 for UK residents. Non-UK citizens will need to provide sufficient document/s confirming your right to live and study in the UK e.g. confirmation of settled status.
Additional costs
You are required to being your own personal protective equipment (PPE).
However, the College will provide tools and there are no additional costs.
What Next...
Following graduation from the HNC, you are eligible to progress onto a Higher National Diploma (HND) or onto a full degree programme.
Graduate destinations
Previous students have progressed to study at Greenwich University and the Open University.
 
Success Stories...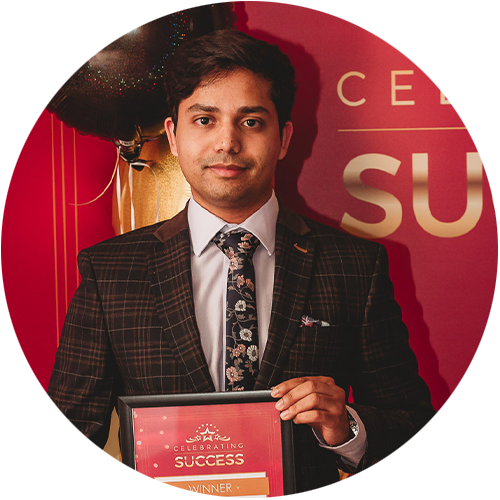 Celebrating Success 2022: Aniku-Rehman Gul
Course studied
I would highly recommended the university centre for its variety of different courses, professional and expert tutors, it is extremely well organised and student orientated."
Aniku has carried off the HNC/HND Student of the Year award because of his excellent attitude towards learning.
He said: "It is an absolute honour to win this award and I'm humbled that my mentors/teachers think of me so highly."
Aniku said he chose to study at University Centre South Essex because it is one of the only higher education institutions that offer the course he wanted study - electro-mechanical engineering. Being employed as a multi-disciplined engineer, this was the perfect course for him.
His tutor commented: "Aniku is motivated, punctual, well-mannered, committed, hardworking, and an excellent collaborator. He is very thorough in implementing given feedback and is improving his work consistently.
"Aniku's distance travelled in such a brief time since he joined L4 HNC programme in September 2021 is remarkable. He has flourished from a quiet student to an accomplished confident team member not hesitating to offer his assistance to his peers and tutors. He is an asset to his programme of study.
Aniku added: "It is an extremely well organised course. Considering my course is part-time it can get intense. Having a course that's organised so well just makes everything, especially the learning part, easier to digest.
"I like that the different aspects of engineering are covered well and taught in a professional and easily digestible manner.
"My greatest achievement so far has been gaining promotion from maintenance technician to regional reliability engineer. I would highly recommended the university centre for its variety of different courses, professional and expert tutors, it is extremely well organised and student orientated."
Aniku said that he would really like to continue his education and get a degree in Electromechanical Engineering. His future ambition is to take up a Chartered Engineering role or become a senior consultant.
Celebrating Success 2022: Mark Ganyu
Course studied
Learning is ageless and I've really enjoyed being a student again and pushing myself to reach my potential
Mark Ganyu, from Stanford-le-Hope, studied HNC General Engineering at University Centre South Essex.
He was nominated for being a motivated, punctual, well-mannered, hardworking individual and for consistently maintaining his high standard performance since in his level 3 part-time engineering course four years ago.
His tutor said: "Mark's work and performance have been exemplary and has exceeded expectations in the last four years whilst tending to family commitments, changing jobs and overcoming a language barrier. He has been an asset to this programme and we wish him all the success."
Mark would recommend University Centre South Essex as a mature student as it helped him in many scenarios and was very flexible and supportive.
Mark commented on his nomination and said: "It was a complete surprise to be winning an award and makes me feel good. Learning is ageless and I've really enjoyed being a student again and pushing myself to reach my potential."
"It's a kind gesture from the awarding bodies and tutors to recognise my efforts and would like to thank them all for their dedication during my time at the university centre."
Mark has aspirations of studying for a higher education degree course but may take his knowledge and skills to his current company, where he can continue accepting new challenges and opportunities.