Disability Support Allowance
Students with disabilities
Our HE Senior Learning Mentor will be able to provide you with advice and support about studying with us if you have a diagnosed disability, long term health condition or specific learning difficulty that is likely to have an impact on your studies. We offer confidential guidance relating to your individual needs, which may include a specific learning difficulty, a physical or sensory impairment, Autistic Spectrum Disorder, or mental health difficulty.
Our experienced Senior Learning Mentor is located on 3rd floor of The Forum and facilitates support for students with a variety of disabilities, recognising that individuals may have very different needs. We can discuss any additional support you may require, including making reasonable adjustments to your course and environment and advice on how to apply for special exam/coursework considerations. We can also give you advice about funding study related support via the Disabled Students Allowance (DSA), if appropriate.
We will require your consent before sharing disability or health related information. Your details will be kept confidential within the University and will only be used for support purposes to allow reasonable adjustments to be considered.
---
What do we mean by Disability?
The definition of disability is broad; if you have a physical, mental or sensory impairment which you feel requires support to enable you to study at University, then you may be eligible for support. The HE Senior Learning Mentor will be pleased to discuss with you and your personal circumstances to help you decide if you should apply for support.
Some examples of disability are listed below:
specific Learning difficulty, such as dyslexia, dyspraxia or attention deficit disorder
Asperger/Autism
mental health condition
mobility issues
long term medical conditions
hearing impairment
visual impairment
We can support a range of disabilities:
advice regarding the support options available to you during your studies
on programme
liaison with your academic department
arranging for learning materials to be produced in alternative formats
orientation training either before or at the very start of term for those with visually impairment or mobility difficulties
support with personal emergency evacuation plans
examination adjustments (It is extremely important that you come and see us as soon as possible if you need examination adjustments, as there is a deadline date for submission. If you do not submit your application in time, you may be too late to meet that deadline).
extenuating circumstances
late submission
intermission
Students will need to have medical proof or a diagnostic report to apply for support. The following types of evidence/report may be required.
letter from your Doctor or specialist
audiology report
blind/visual impairment registration
diagnostic report from an educational assessor or PATOSS registered Specialist Teachers report
letter or report from Community Mental Health team or Psychologist
As a higher education student living in England, you may be eligible to apply for additional funding via a Disabled Students' Allowance (DSA) if you have a disability, including a:
long-term health condition
mental health condition
specific learning difficulty, eg dyslexia
You must meet the definition of disability under the Equality Act 2010 .
To apply for the DSA you can tick the box on your student loan or Bursary application form and you will be sent a DSA application form or you can apply directly through the website of your funding body. The funding body will pay for a needs assessment to decide what support you need at university. If you are eligible to apply for this fund you are strongly advised to apply as soon as possible before you start your course, but you can apply at any time during your studies.
If you are intending to ask the College to provide (DSA) Disabled Student's Allowance funded support, it is highly recommended that you contact our HE Senior Learning Mentor as soon as possible.
Our NMH Rates for DSA support can be found
here
.
---
Personal Care Support
The University or DSA does not provide or fund support with daily living tasks, therefore you will need to think carefully about any non-academic, disability-related support requirements you may have, e.g. assistance with shopping, cooking, cleaning, laundry or personal care. Funding for care support is via your own Social Services. If you need this type of support you will need to liaise with your existing Social Services department to put support in place. This can take time and early contact with us around your needs is essential. We can put you in touch with an agency that we work with currently, SPDNS, to assist with care support, which could be an option for you.
SPDNS Nurse Care provide care and support for people living in the Southend area.
---
International and EU students with dyslexia, disability or a medical condition
You can't access DSAs from Student Finance England if you are an EU or International student. If you have a diagnosis of Dyslexia or a disability and have evidence of this, please contact our HE Senior Learning Mentor, Lorraine Brophy, as soon as possible to discuss this further.
Dyslexia - students should have their Educational Psychologist's (or equivalent) report translated into English. The report must date from when you were 16 or over
disabled students are advised to provide medical evidence of their impairment, eg, audiogram, doctor's letter
If you need any help or advice related to your Specific Learning Difficulty or Disability please contact us on
hesupport@southessex.ac.uk
or telephone 01702 220696.
Success stories
James Mitchell Success Story
Course studied
My name is James Mitchell , I am 38 years old and I studied/at South Essex College from 2002-2007 and this is my story.
I studied MND Moving Image and then a degree BSC Television Production and Screen Theory. South Essex College was local to me, it had the course I wanted to study on and it allowed me to stay at home and work in a local theatre. Industry kit is evolving all the time but a basic understanding of the college kit was very helpful.
It was a great base unit to help you realise your career aspirations. My most memorable aspect of the college was the relationship with the lecturers. This gave me the confidence more than anything else. The chance to prove myself.
Since completing my course, I have worked in the West End in various theatres in Stratford Upon Avon for the Royal Shakespeare Company and in London at the National Theatre. I also worked at the college as a lecturer and technician for a couple of years, followed by working in Peterborough in shopping television and now work in Media City, Manchester for ITV News as a Lead Production Specialist.
My job entails looking after a team of fifteen production specialists and operating in television production roles. Which include head of lighting for ITV news, sound mixing, directing, floor managing, weather recordings etc. By working my way up, I was able to work as a trainee production specialist in 2013, to then being the Lead Production Specialist.
My proudest achievement so far, is winning two BAFTAs as part of a team, also winning Production Specialist of the year in 2017. I hope this will lead to my dream aspired role as an Operations Manager.
Are you an ex FE or HE student? Do you want your story to be told? Then contact us at marketing@southessex.ac.uk
Tony Waghorne Success Story
Course studied
South Essex College was perfect for me, especially when it came to Further Education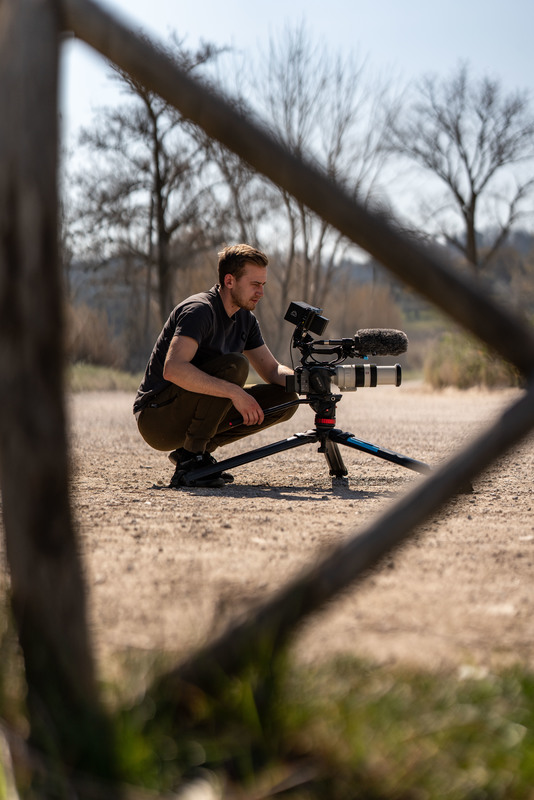 My Story Tony Waghorne
My name is Tony Waghorne, I am 26 years old, I studied Digital Animation and TV and Television Production and Screen Media at South Essex College from 2012 until 2017 and this is my story.
Before coming to study at South Essex College my background was, 'I don't know what I want to do'. I always had a heavy involvement in sport but sadly we can't all be Premier League footballers. I've always been creative and when picking GCSE subjects an art teacher convinced me to take it and I developed an interest. I knew I had the ability to tell a story and it wasn't until an open day at the college I stumbled across animation.
South Essex College was perfect for me, especially when it came to Further Education. I was a short 10 minute train journey away and to be honest I really didn't want to move away to university. I knew I'd get distracted and not get the grade I was hoping for and eventually finish with.
The college prepared me for the workplace by putting me in real world situations. Strick deadlines, communicating with me like a colleague and not a pupil and not to mention the industry-level equipment.
I finished college with a Triple Distinction** and finished Further Education with a 1:1.
I was lucky enough to be accepted for an internship two weeks after completing further education at a digital sports agency in London. The company then employed me full-time and I stayed with them for a further 13 months. I then decided to try freelance work but I didn't enjoy it. Luckily my previous employer took me back as senior videographer. Shortly after, a video agency in Westminster working for big fashion brands including Ted Baker and GHD employed me to be their sole videographer. My current employer contacted me regarding an opening and I've been with them for the best part of three years now.
I currently work as a senior videographer for Nash Tackle Limited. Nash Tackle are one of Europe's leading carp fishing brands and in the media department we make anything from studio-shot product videos to feature-length documentaries shot all over Europe.
I do everything you'd expect in terms of shooting and acting as a lead on these shoots, but I also do a lot pre and post-shoot. This can be anything from booking hotels, contacting venues, assigning shoots/edits, watching edits and providing feedback and am just a general point of contact to the other videographers in the team. My manager is hoping to develop me into head of video in the not too distant future.
I think I would have been lost if I just left secondary school and attempted to get into this industry on my own. The college guided me into employment that I wanted to do and a career that I can strive in. I was able to change course easily and therefore find the right path for me through great mentorship and available opportunities.
At South Essex College I gained all of the basic skills I need to do my job. When I started further education I didn't even know what aperture was and just five years later I'm leading crews of six on European shoots and being considered for a head of video role.
One of my most recent achievements was being flown out to Thailand to shoot. One of the many reasons I wanted to do this career was because of the travelling aspect and an experience like that is one many don't get in their career.
The equipment at the college, especially the editing software's and machines are identical to what I use and what I always have used in the industry.
My time at the college helped 100% with my confidence. I'm not a confident person and there's many moments you don't look forward to when studying, presenting in front of a class for example, but these are the things that really help develop you and confidence is something that has been key to my career development.
Celebrating Success 2022: Sophie Wade
Course studied
The university centre has given me plenty of opportunities to speak with the tutors and seek feedback and support on a one-to-one basis and there is a real community feeling
Sophie Wade, from Stanford-le-Hope, is in her second year of the Graphic Design BA (Hons) course at University Centre South Essex.
She was nominated for the award for her professional manner and her proactive attitude to work.
Sophie has many notable achievements at the university centre so far such as securing a web design work placement based in London, working at a Leigh-On-Sea based marketing agency and collaborating with the RSPB on her final second year project.
Her tutor said: "Sophie has approached her work placement unit in a professional manner since day one and her proactive manner has meant that she secured many work placement opportunities, including working with the RSPB on her own self-directed project.
Sophie has been a really great peer mentor throughout the academic year and all her interactions with employers have helped prepare her for the professional world when she completes the course next year."
Sophie returned to education after three years of working in local authority administration roles to embark on a new creative career path and was very nervous about starting her degree studies in 2020, but said the staff at the university could not have been more accommodating and helpful.
She said: "I feel privileged to have been selected to receive this award and I am extremely grateful to the staff across the UAL creative portfolio who have selected me as the winner.
The university centre has given me plenty of opportunities to speak with the tutors and seek feedback and support on a one-to-one basis and there is a real community feeling. I could not think of a better way to conclude my second year of study here at the university centre."
Sophie's ambition for the future is to embark on a career where she can combine her love for graphic design and digital technology and create solutions which make a positive difference to people's lives.

Celebrating Success 2022: Mark Ganyu
Course studied
Learning is ageless and I've really enjoyed being a student again and pushing myself to reach my potential
Mark Ganyu, from Stanford-le-Hope, studied HNC General Engineering at University Centre South Essex.
He was nominated for being a motivated, punctual, well-mannered, hardworking individual and for consistently maintaining his high standard performance since in his level 3 part-time engineering course four years ago.
His tutor said: "Mark's work and performance have been exemplary and has exceeded expectations in the last four years whilst tending to family commitments, changing jobs and overcoming a language barrier. He has been an asset to this programme and we wish him all the success."
Mark would recommend University Centre South Essex as a mature student as it helped him in many scenarios and was very flexible and supportive.
Mark commented on his nomination and said: "It was a complete surprise to be winning an award and makes me feel good. Learning is ageless and I've really enjoyed being a student again and pushing myself to reach my potential."
"It's a kind gesture from the awarding bodies and tutors to recognise my efforts and would like to thank them all for their dedication during my time at the university centre."
Mark has aspirations of studying for a higher education degree course but may take his knowledge and skills to his current company, where he can continue accepting new challenges and opportunities.

Celebrating Success 2022: Billy Gibbons
Course studied
I would recommend people to look at University Centre South Essex, especially if you have a disability as there is good access and amazing support.
UEA Student of the Year, Billy Gibbons, won his award for his determination to succeed in spite of the challenges he faces.
Billy has significant speech and language delay, developmental delay and an auditory processing impairment. He communicates using 'total communication' which combines British Sign Language, lip reading, speaking and listening. He also has mild cerebral palsy affecting mainly his lower limbs.
His tutors have praised him for not letting barriers get in his way and for always striving to achieve his best.
Billy said he was 'very proud' to have won the award.
He said: "I knew I would be very committed and determined to do my very best this year and very thankful to be recognised by my tutors for this."
Billy was quick to recognise and praise the 'excellent' support he is receiving, which was one of the reasons he chose to study at the university centre.
He added: "I wanted to study at University Centre South Essex because there was opportunity for me to keep the fantastic support I had had during my time on my Further Education course at the college.
"I would recommend people to look at University Centre South Essex, especially if you have a disability as there is good access and amazing support.
Billy's ambition is to complete his degree, something he has been working towards and dreaming of since he was young.
He said he also wants to become a role model for other students who believe they can't go to university when in fact they can.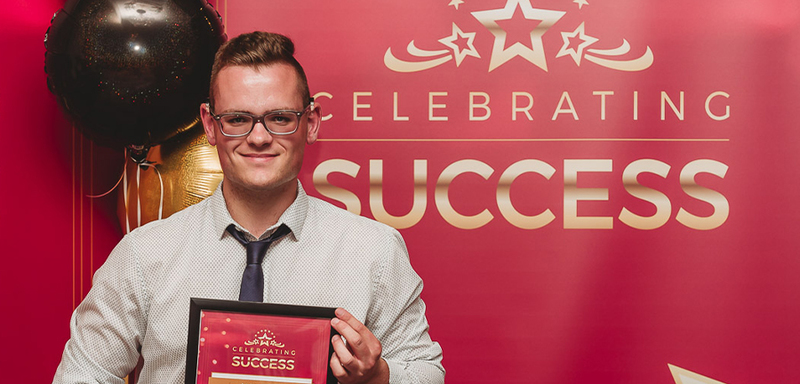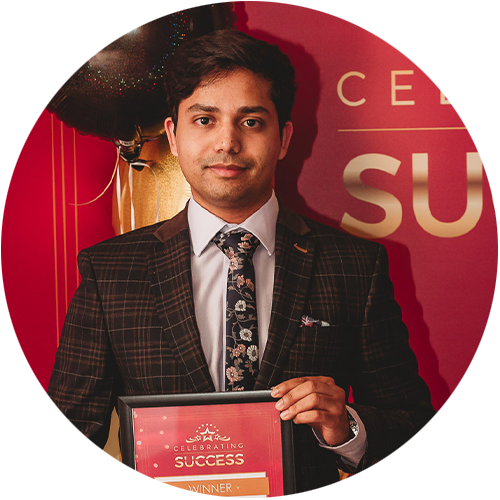 Celebrating Success 2022: Aniku-Rehman Gul
Course studied
I would highly recommended the university centre for its variety of different courses, professional and expert tutors, it is extremely well organised and student orientated."
Aniku has carried off the HNC/HND Student of the Year award because of his excellent attitude towards learning.
He said: "It is an absolute honour to win this award and I'm humbled that my mentors/teachers think of me so highly."
Aniku said he chose to study at University Centre South Essex because it is one of the only higher education institutions that offer the course he wanted study - electro-mechanical engineering. Being employed as a multi-disciplined engineer, this was the perfect course for him.
His tutor commented: "Aniku is motivated, punctual, well-mannered, committed, hardworking, and an excellent collaborator. He is very thorough in implementing given feedback and is improving his work consistently.
"Aniku's distance travelled in such a brief time since he joined L4 HNC programme in September 2021 is remarkable. He has flourished from a quiet student to an accomplished confident team member not hesitating to offer his assistance to his peers and tutors. He is an asset to his programme of study.
Aniku added: "It is an extremely well organised course. Considering my course is part-time it can get intense. Having a course that's organised so well just makes everything, especially the learning part, easier to digest.
"I like that the different aspects of engineering are covered well and taught in a professional and easily digestible manner.
"My greatest achievement so far has been gaining promotion from maintenance technician to regional reliability engineer. I would highly recommended the university centre for its variety of different courses, professional and expert tutors, it is extremely well organised and student orientated."
Aniku said that he would really like to continue his education and get a degree in Electromechanical Engineering. His future ambition is to take up a Chartered Engineering role or become a senior consultant.
Celebrating Success 2022: Amy Slade
Course studied
The university centre feels more like a family environment; you get the opportunity to collaborate with other students from other courses as well as work with people who are a part of the industry.
UAL Student of the Year, Amy Slade has won the award for overcoming severe anxiety and showing impeccable determination.
Amy said she chose the course because there are units in it that are not included in other universities and they focus on what is needed in the industry.
She said: "I am surprised but happy to get this award, I enjoyed the course because of the concept of studying with a smaller group of students. You also get more one-to-one time with your lecturers for when you need help with your work or somebody to talk to.
I had the creative freedom to explore the units independently and include my own personal interests in my assessments."
Amy's tutor said: "Amy suffered with severe anxiety before attending our course and her skills were of a low standard for industry. Since September, she has embraced all wellbeing sessions with confidence and success, she has picked up all hair techniques, including the advanced techniques within six weeks. She has embraced every challenge that has been thrown her way, so much so, she has completed five work experience placements where all other students have declined them.
"Her attitude and drive has to be commended, as her confidence has soared, we are all extremely proud and it is a joy to watch her truly blossom In this short amount of time. It's like she is a new person – it's truly amazing."
Amy feels that completing her first year having had the opportunities to collaborate with other students for their own personal projects as well as industry work experience has been her greatest achievement.
She added: "The university centre feels more like a family environment; you get the opportunity to collaborate with other students from other courses as well as work with people who are a part of the industry. In the future I would like to travel and to try to find my way in the industry to secure a career as a hair and makeup artist; particularly for film, TV and music."