Level 6
Film & Television Production BA (Hons)
Duration
Age Group
Study
Start
Cost
Available Locations
3 YEARS
ADULT
FULL TIME
18/09/2024
18/09/2023

£8000 per year *
Southend Campus
Duration
Age Group
Study
Start
Cost
Available Locations
3 YEARS
ADULT
FULL TIME
18/09/2024
18/09/2023

£8000 per year *
Southend Campus
Apply Now
If you require any support with your UCAS application, please contact the HE Admissions team headmissions@southessex.ac.uk
If you require any support with your UCAS application, please contact the HE Admissions team headmissions@southessex.ac.uk
Overview
Course code: P320
Please note: This course description was updated 03-07-2023
There's never been a more exciting time to be getting involved with Film and TV in the UK. There are areas of huge expansion in production, particularly across the South East, and with this expansion comes a huge amount of opportunity – especially at the Backstage Centre in Purfleet, with which we are directly associated.
This course is a combination of theory and practical work across all areas of film and TV production, focussing on practical units in a modern television studio, location filming, sound & vision, scriptwriting and film production management. The course offers more individual attention than comparable courses, along with appearances by guest speakers and workshops from professional practitioners. A longer film project will be available in year three which is an exciting opportunity to collaborate with other students.
This Programme aims to:
Produce graduates with advanced skills appropriate for careers in creative and technical aspects of film and television production through the integration of theory and practice.
Encourage the creation of film and television work for multi-platform formats. This will be in relation to film and television traditions from around the world and established genres such as, crime, documentary, science fiction and fantasy.
Encourage critical engagement with cultural and historical debates surrounding film and television, its audiences and industries.
Develop understanding of cultural diversity, ethical awareness and the power of film and television as tools for communication.
Produce graduates who are equipped with a range of transferable skills in problem-solving, team and collaborative activities; with an impulse to experiment and reflect, as well as the capacity for autonomous thought and independent, life-long learning.
Entry Requirements
You will need a minimum of 64 UCAS points from one or more of the following:
A Levels
T Levels
BTEC/UAL Extended Diploma
Foundation Diploma in Art and Design (Level 3 or 4)
Or equivalent EU/International qualifications, such as International Baccalaureate Diploma
And English GCSE passes at grade 4 or above (grade A*-C) 
This list is not exhaustive, other qualifications may be considered. Entry to this course will also be determined by the quality of your application, looking primarily at your portfolio/showreel of work, personal statement and reference.
Course Structure
Year one units
FTV 101 - Screenwriting
FTV 102 - Theory as Practice
FTV 103 - Sound
FTV 104 - Lights! Camera! Action!
Year two units
FTV 201 -Post-Production Portfolio
FTV 202 - Theory as Practice II
FTV 203 - Moving Image Production
FTV 204 - Social Media Impact
Year three units
FTV 301 - Directing Performance
FTV 302 - Production Skillset
FTV 303 - Research Proposal and Project
FTV 304 - Final Project
Work placements
The programme has a commitment to work-related learning in the form of work experience, live industry projects, competitions, vocational projects and placements within the specialist area of Film and TV Production. There are also opportunities to collaborate with other programmes within the University Centre and the Backstage Centre, to encourage collaborative and team-building experience for  employment and personal development.
Timetables
Typically, year groups are expected to attend lessons for 13 hours a week, spread over two and a half days. We expect students to build upon timetables sessions through independent study for at least a similar period. This should involve research and experimentation, developing concepts and scripts and thinking. There are evening and weekend facilities available either within the Campus or close by at the Forum, Southend.
End of year show
In recent years, our end-of-year show has been run as an additional event for the Southend Film Festival, allowing the public to see student work in a festival screening environment. We have also had selected student work publicly exhibited on the large outdoor screen by The Forum, as part of the Big Screen Southend arts programme..
Field trips
Students will be given the opportunity to benefit from one or more field trips, including overseas residential trips which may be made available at an additional cost. Previous destinations have included:
Los Angeles
Berlin
New York
BFI London Film Festival
Visual Arts Festival
BVE at the ExCeL in London
Teaching & Learning
Teaching
You are taught through a combination of lectures, seminars and workshops, which enable you to discuss and develop your understanding of the disciplines associated with Film and Television Production.
Currently, you will primarily use Adobe Creative Suite and other related programs and with access to various facilities including computer areas, including outside normal teaching hours. As more powerful and versatile cameras and film-making equipment become available our equipment is updated on a regular basis.
In year two you typically have around 13 hours contact time per week, typically consisting of:
Six hours of short lectures and seminars
Six hours of practical workshops (including one-to-one tutorials when necessary)
One hour of specialist tutorials in practical, research and writing techniques
A similar pattern continues in years two and three, but you will be encouraged to show increasing self-reliance and independence. As you progress you will spend more time on location and experimenting with.
Units are delivered through a variety of methods of teaching and learning. These will include:
Technical demonstrations of industry-relevant filming equipment. These are designed to provide an essential induction to both the television studio and location filming – including effective use of lighting and sound to support the development of essential creative skills
Small group teaching – for studio based group sessions and also for research and writing
Peer Review – to encourage creative development, especially prior to assessment deadlines
Individual and group tutorials - your tutor / lecturers will ask key questions regarding your planning and project work-flow and offer advice and suggestions regarding future development
Independent research and professional practice - during each unit you are expected to show how you have responded to suggested directions and peer review regarding the direction of your projects and assignments
Computer-based workshops, skills in post-production platforms and also professional development via 'working day' simulated briefs
Independent learning
When not attending lectures, seminars and workshops or other timetabled sessions you will be expected to continue learning independently through self-study. Typically, this will involve reading journal articles and books, working on individual and group projects, undertaking research in the library, preparing coursework assignments and presentations. A range of excellent facilities, including the library, the Learning Resource Centre and the Forum, supports your independent learning. You are also expected to develop your own scripts, concepts and production projects by experimenting with cameras, recording and filming equipment. All of you activities should have a focus on finding links between theory, experimentation and practice.
Assessment & Feedback
Coursework is assessed in a range of different ways in order to accommodate a variety of learning styles and aptitudes including:
Film and TV products
Portfolio and sketchbook submissions
Group presentations
Written essays
Research folders
You will be required to create films and other moving image material together with relevant and integrated research. There are no examinations, but we do include simulated working days as part of your professional and creative development.
Feedback
You will receive formative feedback as part of your one-to-one sessions with your unit lecturers. You will also receive summative feedback on all formal assessments undertaken by coursework. Feedback is intended to help you learn and you are encouraged to discuss it with your unit leader, tutor and lecturers. Feedback can be given in a range of different ways in order to accommodate a variety of learning styles and aptitudes including group peer review, recorded verbal and written feedback.
We aim to provide you with feedback within 20 working days of hand-in (for al formal studio based coursework assessment). For the third year Dissertation Unit you will receive feedback and grades at the same time as your Final Project.
Course Cost
Adult, full_time: £8000 per year

Fees are per academic year for Home/UK students.
The following course-related costs are included in the fees:
Guest speakers, visiting lecturers and industry focussed workshops will be included in your course over the three years.
Third Year students will have the opportunity to showcase their final year work at the end of their studies. This may be a local, national or online platform. Event/exhibition costs will be covered by the Faculty of HE. In the past this has included the Southend Fringe Festival. Students will be responsible for any additional costs associated with the production of their personal project (ie: printing, materials).
Optional additional workshops (in recent years these have included topics such as creative improvisation and stage pyrotechnic safety)
Annual £20 of printing credit per year.
Additional course costs can be found here
What Next...
This programme has both a practical production and cultural theory focus and therefore offers good preparation for post-graduate study or training.
Graduate destinations
Graduating students leave with the ability to work in their own production teams to create short films. A number of recent graduates continue to create films for festivals and competitions; recent successes include an award in the Virgin Film Competition. Students from each graduating cohort pursue successful careers in media companies including:
BBC
Channel 4
Hat Trick
Framestore
Advertising agencies
Regional film companies
London & Hollywood post-production companies
Others continue their education at Master of Arts level and/or enter the teaching profession.
Success Stories...
Tony Waghorne Success Story
Course studied
South Essex College was perfect for me, especially when it came to Further Education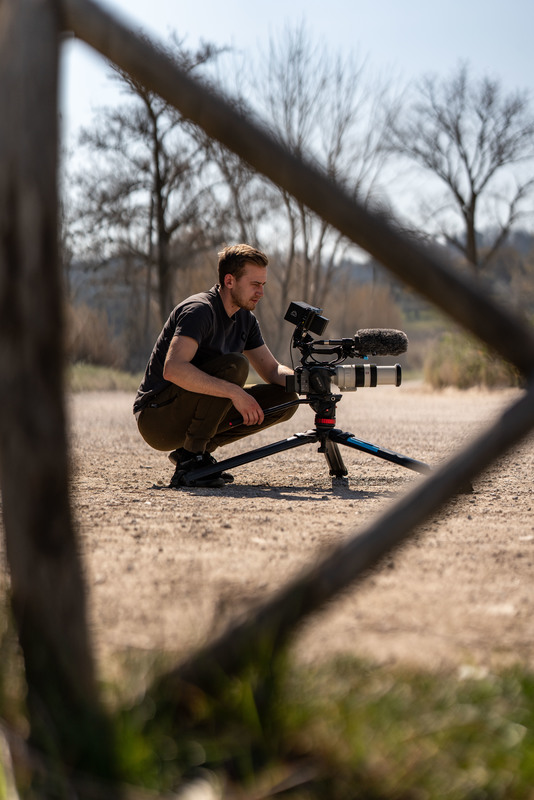 My name is Tony Waghorne, I am 26 years old, I studied Digital Animation and TV and Television Production and Screen Media at South Essex College from 2012 until 2017 and this is my story.
Before coming to study at South Essex College my background was, 'I don't know what I want to do'. I always had a heavy involvement in sport but sadly we can't all be Premier League footballers. I've always been creative and when picking GCSE subjects an art teacher convinced me to take it and I developed an interest. I knew I had the ability to tell a story and it wasn't until an open day at the college I stumbled across animation.
South Essex College was perfect for me, especially when it came to Further Education. I was a short 10 minute train journey away and to be honest I really didn't want to move away to university. I knew I'd get distracted and not get the grade I was hoping for and eventually finish with.
The college prepared me for the workplace by putting me in real world situations. Strick deadlines, communicating with me like a colleague and not a pupil and not to mention the industry-level equipment.
I finished college with a Triple Distinction** and finished Further Education with a 1:1.
I was lucky enough to be accepted for an internship two weeks after completing further education at a digital sports agency in London. The company then employed me full-time and I stayed with them for a further 13 months. I then decided to try freelance work but I didn't enjoy it. Luckily my previous employer took me back as senior videographer. Shortly after, a video agency in Westminster working for big fashion brands including Ted Baker and GHD employed me to be their sole videographer. My current employer contacted me regarding an opening and I've been with them for the best part of three years now.
I currently work as a senior videographer for Nash Tackle Limited. Nash Tackle are one of Europe's leading carp fishing brands and in the media department we make anything from studio-shot product videos to feature-length documentaries shot all over Europe.
I do everything you'd expect in terms of shooting and acting as a lead on these shoots, but I also do a lot pre and post-shoot. This can be anything from booking hotels, contacting venues, assigning shoots/edits, watching edits and providing feedback and am just a general point of contact to the other videographers in the team. My manager is hoping to develop me into head of video in the not too distant future.
I think I would have been lost if I just left secondary school and attempted to get into this industry on my own. The college guided me into employment that I wanted to do and a career that I can strive in. I was able to change course easily and therefore find the right path for me through great mentorship and available opportunities.
At South Essex College I gained all of the basic skills I need to do my job. When I started further education I didn't even know what aperture was and just five years later I'm leading crews of six on European shoots and being considered for a head of video role.
One of my most recent achievements was being flown out to Thailand to shoot. One of the many reasons I wanted to do this career was because of the travelling aspect and an experience like that is one many don't get in their career.
The equipment at the college, especially the editing software's and machines are identical to what I use and what I always have used in the industry.
My time at the college helped 100% with my confidence. I'm not a confident person and there's many moments you don't look forward to when studying, presenting in front of a class for example, but these are the things that really help develop you and confidence is something that has been key to my career development.
James Mitchell Success Story
Course studied
My name is James Mitchell , I am 38 years old and I studied/at South Essex College from 2002-2007 and this is my story.
I studied MND Moving Image and then a degree BSC Television Production and Screen Theory. South Essex College was local to me, it had the course I wanted to study on and it allowed me to stay at home and work in a local theatre. Industry kit is evolving all the time but a basic understanding of the college kit was very helpful.
It was a great base unit to help you realise your career aspirations. My most memorable aspect of the college was the relationship with the lecturers. This gave me the confidence more than anything else. The chance to prove myself.
Since completing my course, I have worked in the West End in various theatres in Stratford Upon Avon for the Royal Shakespeare Company and in London at the National Theatre. I also worked at the college as a lecturer and technician for a couple of years, followed by working in Peterborough in shopping television and now work in Media City, Manchester for ITV News as a Lead Production Specialist.
My job entails looking after a team of fifteen production specialists and operating in television production roles. Which include head of lighting for ITV news, sound mixing, directing, floor managing, weather recordings etc. By working my way up, I was able to work as a trainee production specialist in 2013, to then being the Lead Production Specialist.
My proudest achievement so far, is winning two BAFTAs as part of a team, also winning Production Specialist of the year in 2017. I hope this will lead to my dream aspired role as an Operations Manager.
Are you an ex FE or HE student? Do you want your story to be told? Then contact us at marketing@southessex.ac.uk