Success Stories - Kerry Thomas
My name is Kerry Thomas, I am 35 years old, I studied graphic design at University Centre South Essex from September 2013 until June 2016 and this is my story.
I left school in 2002 just after my GCSEs and worked up from a receptionist role to accounts payables assistant roles in various jobs until 2007. I then had my son and stayed at home and started a little cupcake company which didn't really take off. In 2010 I went back to work again in an accounts assistant role until I fell pregnant with my daughter in 2011. After she was born I realised I didn't want to work in accounts and I wanted to do something creative. I wanted a career so that I could change my family's future and I wanted my children to know it's never too late to chase a dream. So I enrolled with the college and did the Access to Art and Design course in 2012. I actually wanted to do interior design however, as I learnt more about graphic design I began to fall in love.
After graduating in October 2016, I landed my first role in a publishing/events company called Media10 and worked across a variety of magazines designing layouts for different publications. After a year I moved on to a creative agency called Powwow Creative. Here I learnt so much, there was such a variety of work from creating social and advertising campaigns to brand development. I was involved in the projects from start to completion and really grew as a designer here. Unfortunately in January 2019 I was made redundant.
In February 2019 I lined up several interviews including one at Formula One, which was an amazing experience however, I was offered an amazing position at out of home media agency JCDecaux.
I have been there for the past two years and I absolutely love it. I work in the department called one world which means that I work with all the large and global brands. I help creative solutions come up with new out of home advertising ideas and I create realistic mock-ups so that they can pitch to clients the concepts. I also support the sales team with their PowerPoint decks and any sales and marketing material.

Because I had children and obviously my family life I couldn't go to a university that was too far away and luckily for me University Centre South Essex was more or less on my doorstep as I lived in Shoeburyness at the time. However that being said, I probably would have still chosen to go there even if I did have the option of going to another university.

I think because I'd already had experience in the workplace I don't know if it really helped me prepare for the work blows, it definitely helped me prepare for the type of roles that I would be doing once I had my degree. I can see and I do know the university has helped younger people who may not have had that experience to experience what work the workplace might be like.
The best thing about higher education, from my point of view, is the friendships you make and the inspiration you get from your tutors. There is support and guidance from other people and the pride in receiving recognition for learning about your passion.
One of the biggest skills university gave me was confidence. Confidence in my ability and the confidence to trust myself. It also gave me a firm understanding about the subject in which I was about to embark on a career in.

The equipment is all up-to-date when I was doing my degree and I then went into my first job because I was so used to using the equipment at the university centre I found it really easy to just carry on.

At the end of my first year on the graphic design degree I was feeling a little bit like, is this for me? Am I too old to be learning this? Most of the people on my course were under the age of 22 and had done a Graphic Design BTEC so they were already aware of things that I wasn't and I was feeling a little deflated. Then we did the final major project and I will never forget that I looked at my final major project and I looked at my tutor John and I just felt in that moment so proud of how far I had come because when I started I knew nothing and looking at that final major project I thought, that's progress, this is where I'm finally getting it and I think my course tutor agreed.

There are a ton of universities that all claim to have the best courses the best people and I'm sure that they do but I don't think I would be where I am today if it wasn't for the tutors, support and the guidance I received whilst at University Centre South Essex.
The best way I think to look at it is if a 27 year old mother of two children who has never had any experience in the career that she wants to do is able to go back to school and not only graduate but to also then embark on that career and be established as a designer then I think that shows exactly why you'd be mad not to consider University centre South Essex.
My greatest achievement apart from my beautiful children and getting a degree is working for one of the biggest media advertising agencies in the world (JCDecaux).

I do a lot of freelance work as well and in the future I would like to own my own agency in five to ten years
University Centre South Essex gave me confidence and also never will I be afraid again to chase my dreams because now I know for sure that if you shoot for the moon and you miss, that's okay, you're still among the stars.

Also can I add in a thank you to Cherry Sandover (Access Course Leader) for taking me under her wing and allowing me to express myself and to John for giving me the chance. He knew I had no prior knowledge of Graphic Design but I promised him I would work hard and he gave me a shot. I want all the tutors to know I kept my promise and I'm still working hard but I will forever appreciate you taking a chance on me and changing my life.

Success stories
James Mitchell Success Story
Course studied
My name is James Mitchell , I am 38 years old and I studied/at South Essex College from 2002-2007 and this is my story.
I studied MND Moving Image and then a degree BSC Television Production and Screen Theory. South Essex College was local to me, it had the course I wanted to study on and it allowed me to stay at home and work in a local theatre. Industry kit is evolving all the time but a basic understanding of the college kit was very helpful.
It was a great base unit to help you realise your career aspirations. My most memorable aspect of the college was the relationship with the lecturers. This gave me the confidence more than anything else. The chance to prove myself.
Since completing my course, I have worked in the West End in various theatres in Stratford Upon Avon for the Royal Shakespeare Company and in London at the National Theatre. I also worked at the college as a lecturer and technician for a couple of years, followed by working in Peterborough in shopping television and now work in Media City, Manchester for ITV News as a Lead Production Specialist.
My job entails looking after a team of fifteen production specialists and operating in television production roles. Which include head of lighting for ITV news, sound mixing, directing, floor managing, weather recordings etc. By working my way up, I was able to work as a trainee production specialist in 2013, to then being the Lead Production Specialist.
My proudest achievement so far, is winning two BAFTAs as part of a team, also winning Production Specialist of the year in 2017. I hope this will lead to my dream aspired role as an Operations Manager.
Are you an ex FE or HE student? Do you want your story to be told? Then contact us at marketing@southessex.ac.uk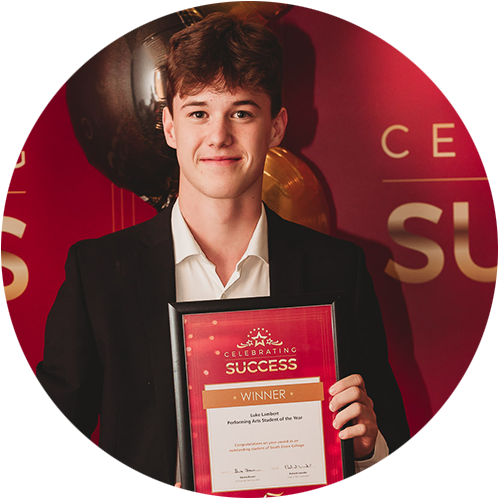 I have enjoyed receiving honest feedback and having the opportunity to grow as a performer. Tutors really encourage their students.
Performing Arts Student of the Year, Luke Lambert, has won his award because in every respect, his development and improvement has been outstanding.

Luke said that he feels extremely proud and grateful for the recognition.

He said: "I chose to study at the college because I went to the open day with my parents. We were all really excited by the course and impressed by Richard and his ambition for his students."

He added: "The course has been great for learning professional etiquette, as well as the actual training. I have enjoyed receiving honest feedback and having the opportunity to grow as a performer. Richard and Neil really encourage their students."

Luke's tutor said: "Luke is an outstanding student. The development of his skills set during his time at this college is phenomenal which has been rewarded by casting him in the lead of the cohorts FMP production of 'Spring Awakening'. As a result of his continuous diligence and want to improve, he has achieved offers from four top London Drama Schools to study Musical Theatre, Bird College, Arts Educational, Italia Conti and Guildford Conservatoire (GSA). This is far above what was expected at the beginning of his training.

"He has demonstrated that he is highly motivated to succeed in this industry and aspires to always do his best. He is polite and well-mannered at all times to both his peers and his tutors. He is extremely well respected by his cohort. He is always supportive of them and goes out of his way to help them.

"He has become a very influential member of the group in so many positive ways. Behaviour, focus and attention to detail is impeccable and cannot be faulted. He has met every deadline for both practical and academic tasks. A faultless time at this college."

Luke will be studying for a BA (Hons) in Musical Theatre at ArtsEd in London from September and his ultimate ambition is to be performing leading roles in the West End.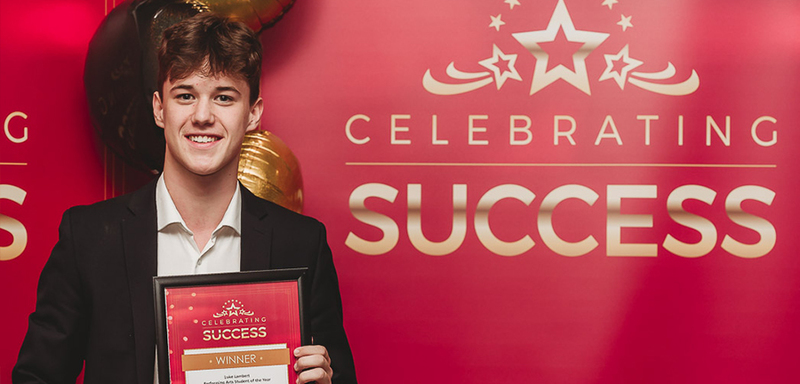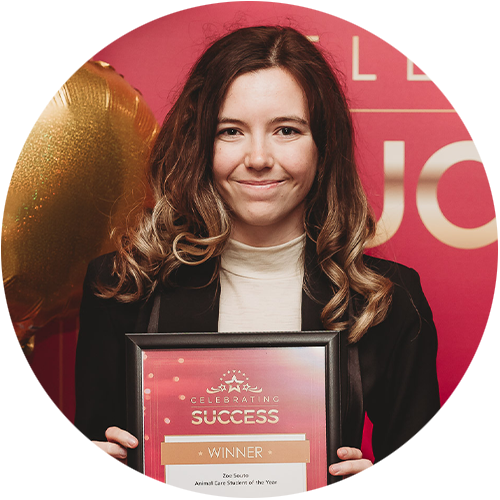 Celebrating Success 2022: Zoe Souto
Course studied
Zoe Souto, 17, from Rayleigh, studied Level 2 Animal Care at the college's Southend campus.
She was nominated for the award for her excellent attendance and attitude to college life and for completing work before deadlines to a very high standard.
Her tutor said: "Zoe is a very calming influence on the group. She keeps up-to-date with all work and goes above and beyond what is expected.
"Zoe may be hearing impaired but she never lets that act as a barrier to her learning and does everything to a great standard. I often have to set her work from level 3 to keep her ticking over."

Zoe said: "I feel so proud of myself and surprised as I didn't expect to be nominated, let alone win. I enjoyed all the support that was given during my course and have always been made to feel at home at the college."
Zoe's ambition for the future is to run her own pet services business or run her own cattery.